International Business holds a distinctive position among all the courses provided by UK universities and is widely sought…
The post Study International Business in UK appeared first on Leverage Edu.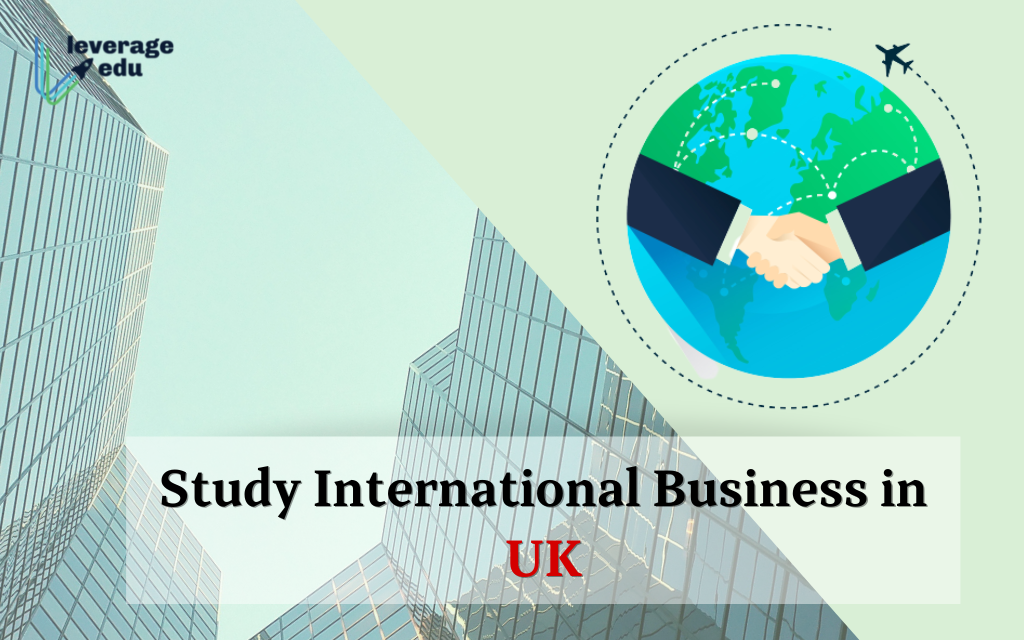 International Business holds a distinctive position among all the courses provided by UK universities and is widely sought after by international students all around the world. In the modern, globalized world, marketing is a global endeavour that necessitates knowledge and proficiency on a wider scale. Additionally, this degree in the UK is a wise choice if you want to develop these fantastic leadership qualities and advance your business career. We've covered the value and range of studying at the top institutions for international business in the UK in this blog, along with the expenses, qualifications, and more.
Overview of International Business Course
Professor Chris Pitelis, head of the international business division at Leeds University Business School, explains that:
"International business deals with multinational enterprises (MNEs), their governance, strategies, and management, their relationship with governments, and their role in the globalization and localization of economic activity."
International Business researches the most significant contemporary issues that have an impact on our daily life. Even while many companies have some type of foreign presence or activity, international business deals with the unique and complicated difficulties associated with multinational corporations. Professor Pitelis continues, "All people who care about promoting globalization through employment in the company, government, the community/NGOs, or who prefer to operate their own firms, are interested in studying international business.
An international business programme teaches management, marketing, and finance skills in a global context, as well as an understanding of-
International trade practices, government policies, foreign markets, and global business risks and opportunities
Global market legal requirements, cross-border taxation, and business and trade regulations
Adaptation of international business models for various working environments
Addressing cultural sensitivities in order to motivate consumers from various regions
Analyze the competitive landscape in order to develop effective strategies for capitalizing on opportunities.
Why Choose the UK for the IB Programme?
If you are specifically interested in understanding the global perspective on business, any degree in international business management in the UK will be a better option. You may decide to take up international business in the United Kingdom for the following reasons:
Boosting Your CV
If you are not from the UK and English is not your first language, studying in the UK can give your CV or resume a significant advantage over your peers. Whatever industry sub-sector or country you choose to work in, improving your English fluency by living here will provide you with an advantage and much more confidence – even if you have already studied for and obtained English language qualifications to a professional level.
Top Universities
According to HESA, business schools in the United Kingdom had the greatest number of students enrolled in their postgraduate taught programmes. Most international students interested in business degrees prefer to pursue an MBA in international business in the United Kingdom. QS News, a publication that ranks business and management schools worldwide, has ranked 13 UK universities offering an International Business degree among the top 100.
Shorter Courses 
The UK offers courses with shorter duration as compared to other countries, which allows the students to gain more practical experience and industry exposure. Needless to say, it saves time and money as well.
Brilliant Exposure
There are students from all over the world studying in the UK, which will give you amazing exposure to different cultures and ethnicities. It will also help you build a strong network that may prove to be valuable to your career, both after graduation and in the longer term.
Top Universities in the UK for IB
The universities for International Business Management in the United Kingdom are ranked highly in popular world rankings. The following are the top 10 universities in the United Kingdom for International Business:
Must Read: BBA International Business
Entry Requirements 
Before submitting your application to the top UK universities for international business, it is crucial to understand the eligibility requirements for the programme. We have broadly classified the following eligibility categories:
Educational Qualifications
An undergraduate/secondary school diploma or an equivalent qualification in Business Studies (depending on your course level) is required. To study international business in the UK, you must take some courses in marketing, management, logistics, accounting, or economics.
Work Experience
You need at least two years of post-qualification experience to enrol in postgraduate international business courses in the UK. Work experience might also give you an advantage when applying.
Documents Required
The following important document requirements must be completed in order to enrol in an international business management course in the UK:
Institutional Certificates Original
Statement of Purpose (300 – 500 words)
Two or three letters of recommendation
Resume or CV with any voluntary experience
A valid copy of your passport
Must Read: Scope of MBA in International Business
Admission Process
The following is a step-by-step guide to applying for a master's degree in international business in the United Kingdom:
Once you've decided on the MSc International Business course you want to take, look for the best university that offers it.
Visit the university's official website and gather all information about eligibility and the admissions process.
Upload scanned copies of all required documents (transcripts, curriculum vitae, IELTS/TOEFL scorecards).
Fill out the appropriate registration form and pay the required fee.
After completing all of the procedures, you will receive a conditional offer letter and will be able to book your seat at the specific university.
Pay your deposit and agree to the university's terms and conditions, and you're done.
Cost of Studying in the UK
One of the top choices among students for doing an international business course is the UK. Numerous factors affect how much something costs to live. Tuition costs and the cost of living are still significant factors to take into account before enrolling in an international business programme in the UK:
Tuition Fees
UK universities charge tuition fees of up to £9,250 (INR 8.5 Lakh) per year for full-time undergraduate courses to UK and EU students. You may be charged if you are studying part-time or on a different schedule. International students pay a range of fees ranging from £15,000 (INR 13.8 Lakh) to £30,000 (INR 27.6 Lakh).
Living Expenses
The cost of living in the UK is determined by your location and lifestyle. To cover all of your expenses, you should budget at least £1,300 (INR 1.19 Lakh) to £1,700 (INR 1.56 Lakh) per month. Extra costs include transportation, stationery, food, and materials.
Want to study abroad but are worried about expenses? Let Leverage Finance help you!
Careers and Scope
When you finish an undergraduate degree in international business, you have a plethora of options for what to do next. You could pursue a postgraduate qualification, such as a master's degree in the same or a separate topic, or apply for an MBA without prior experience. Alumni of international business can apply for a wide variety of jobs, with some of the most popular positions including:
| | |
| --- | --- |
| Job Profile  | Average Salary per annum |
| Business Development Manager | £43,000 (INR 39.5 Lakh) |
| Account Executive | £50,000 (INR 46.03 Lakh) |
| Implementation Consultant | £40,000 (INR 36.8 Lakh) |
| Digital Marketing Specialist | £70,000 (INR 64.4 Lakh) |
| Senior Marketing Manager | £59,470 (INR 54.7 Lakh) |
FAQs
Where can I study International Business in the UK?
Top UK Universities for International Business Studies
Warwick University
Leeds University
Birmingham University
York University
Is International Business a good course in the UK?
For international business students, the United Kingdom provides excellent job opportunities. Graduates can pursue careers in a variety of business fields, such as public relations, finance, manufacturing, international finance, non-profit, and consulting. They could become financial traders or business development executives.
Is International Business in demand in the UK?
Yes, graduates in international business from the UK's top universities are in high demand and are offered numerous positions at the highest levels of management.
What is the highest-paying job in International Business?
5 High-Paying Jobs in International Business
Director or Manager of Global Marketing
Manager of International Human Resources
International Management Consultant or Analyst
Manager of Global Logistics
Manager of International Finance
If you want to pursue a career in business, you'll need a strong business education. A degree in international business will provide you with exactly that, but with a more refined, global perspective, allowing you to apply for jobs in any country on the planet. To secure admission to the top universities of the UK, contact Leverage Edu today.
The post Study International Business in UK appeared first on Leverage Edu.